Your guide to manicures
---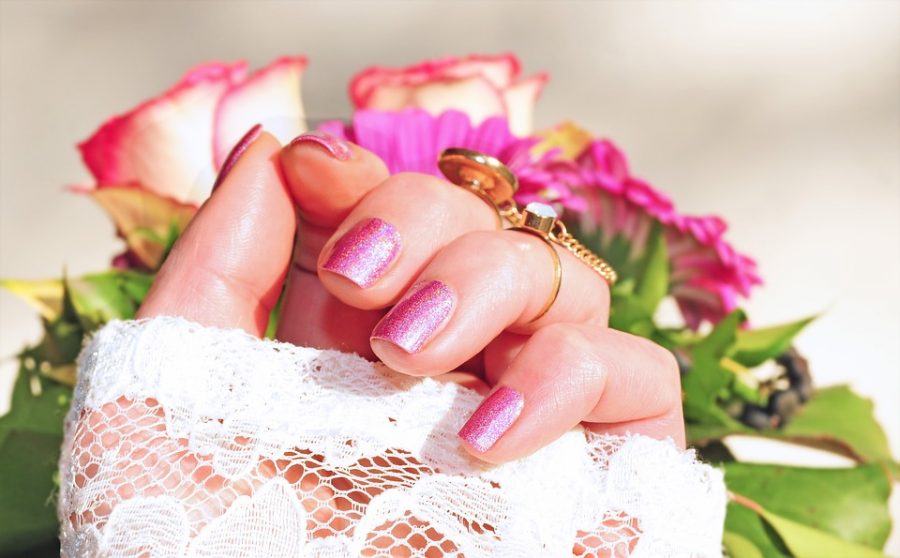 Everyone loves being pampered and having a manicure done, so why is choosing the right manicure for you so stressful? With so many different styles, colours and shapes available it can be hard to decide how you would like your nails to be done. Whether you are having a manicure for a special occasion (wedding, holiday, party) or whether you have a regular manicure we have you covered with our guide to choose the perfect manicure for you.
So let's start at the beginning. What type of manicure are you after? With choice between acrylics, shellac, IBD nail enhancements or just a simple colour to your natural nails, it can be incredibly confusing to find the right treatment to suit your nails and nails that suit your daily life.
Acrylics – acrylic nails are perfect if you are looking for a dramatic nail look as lots of length can be provided to these nails. The acrylic nail is placed over your natural nail and can be shaped easily into your desired style. Although acrylics look nice when worn for a long period of time they can easily damage your natural nail. I think these nails are great for a special occasion and holiday, they are not the best nail style for daily life as they can damage your natural nail and can snap easily once they start to grow out.
Pro's:
Acrylics prevent people from chewing their nails as they are hard to bite off. This is great for people who have a bad habit of biting their nails.
Acrylics have been around a long time and are very popular therefore most nail salons offer this treatment.
They last longer
Can achieve any shape / design
Con's:
They can damage your natural nails when worn for too long
Application of acrylics involves strong chemicals which some people may be allergic to
When acrylics grow out they can look start to look 'too fake' and be a nuisance.
Expensive to maintain (acrylics need to be infilled every 2 weeks)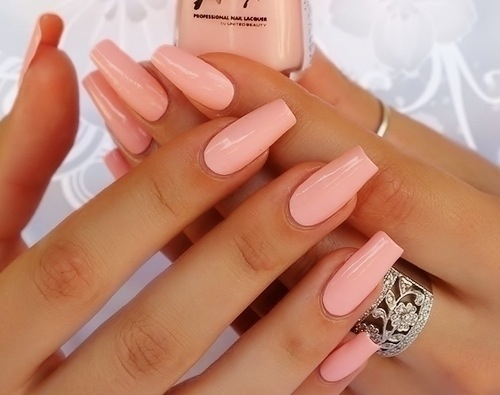 Shellac – if acrylic nails aren't for you due to the damage and upkeep then shellac may just be the perfect option for you! Shellac nails last up to 4 weeks and do not damage your natural nails, the finishing results also have a beautiful glossy shine! Shellac (a blend of gel and nail polish) is added to your natural nails (it can also be put on tips) similar to nail varnish. Shellac adds strength to your nails and the results are long lasting.
Pro's:
Does not take long to dry (no waiting around for your nails to dry in the salon)
Long lasting (can last up to 4 weeks)
Does not damage your natural nails
Beautiful, glossy finish
Con's:
Some salons may not have a wide variety of colours of shellac

You cannot remove shellac from home, you must go to a salon to get shellac removed (this usually comes with a price)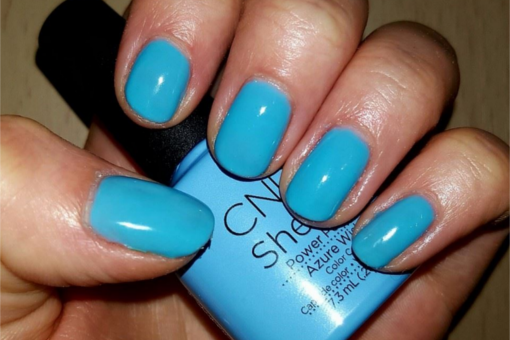 IBD Nail Enhancements – nail extensions and overlays that are a good way to add strength and length to your natural nails. This can be great if you have a tendency to bite your nails.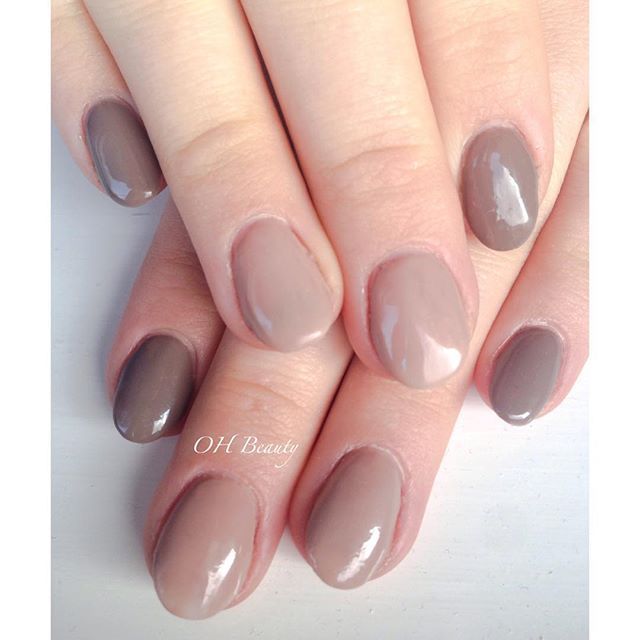 Simple manicure – if you are looking to help your natural nails grow (or even maintain nicely kept nails) then a simple manicure is perfect for you. Not only is this option long lasting it is also cheaper. With a basic manicure you still have the option of having different designs / colours and shapes but these options must work with your natural nails.
Pro's:
Does not damage your nails
Cheap
Long lasting
Easy to soak off at home
Con's:
If you do not take care of your nails they can break easily
Does not stop you from biting your nails
Less design option (if you have short nails)
The right nail shape for you:
Once you have decided which manicure is best for you, the next question is what shape do you want your nails to be?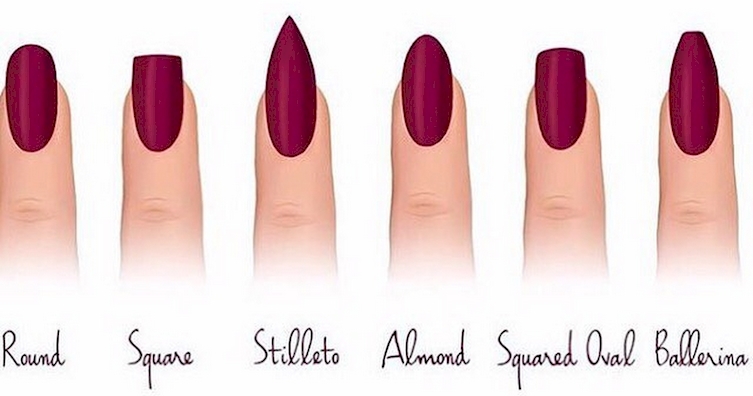 Rounded – best for short or stubby fingers. This works with both long and short nails and has a natural look. The curved shape makes your nails look elegant and this shape is easy to create and maintain.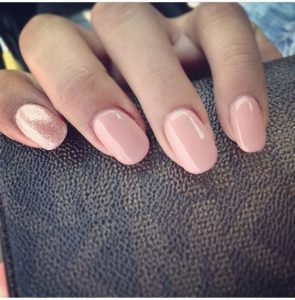 Oval – best for wide and nail beds and long fingers. This is a feminine shape that elongates the nails and blunt tips make your nails look delicate.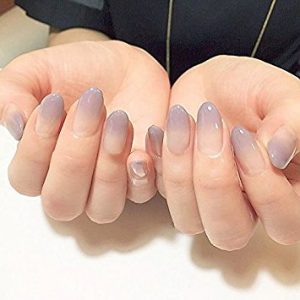 Square – best for wide nail beds and narrow, long fingers. This style was originally used for French manicures but also works alongside other manicures no matter the design or colour. Square nails tend to look better when there is more length to the nail.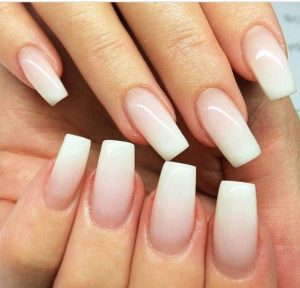 Coffin – best for all types of nails. This nail style is best for people with long nails as they will need to be long enough to be filed into a tapered point on both side and then the tip of the nail squared off.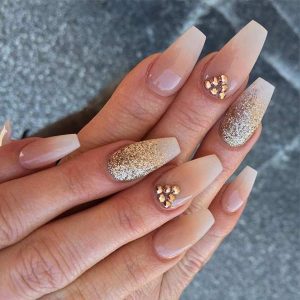 When it comes to nails they're isn't really a wrong colour to go for! Planning a nail colour to match your outfit for a special occasion is always a great ideas as well! In the summer opt for light and nude colours, matte or sparkly – matte blue, yellow and pink always looks great with a tan! In the winter opt for darker colours such as, plum, red, matte black, silver etc – if you are feeling festive a nice sparkly colour will look great for Christmas related events!