Airbase, airbrush flawless make up and free hand Mac cosmetics used by professional, experienced MUA.
INDIVIDUAL PACKAGES – upon request to make your day extra special
Airbase, airbrush make up – use a range of make-up including airbrush as described below, also use Mac and a Mac professional, some Bobbi Brown and Arbonne 100% pure, safe and beneficial (not tested on animals)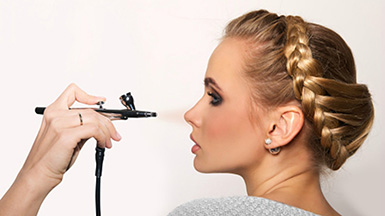 How did Airbase begin?
Airbase was created by Judy Naaké, the modest beauty guru that bought the now leading tanning product St.Tropez to the UK. Airbase has since had product development by Oscar-nominated Make-up Artist Anni Buchanan.
What is it made from?
Airbase combines a unique mix of ingredients with silicone at the heart of it's formulation. Feeling beautiful and luxurious on the skin, the silicone chosen does not clog your pores, allowing your skin to breathe. It is this that helps give Airbase Make-Up unrivalled durability.
Silicone: Silicone is heat-resistant, non-stick and plyable. That means that your Airbase Make-Up application lasts all day and can be 'moved' for a few minutes unlike water based foundations. Any errors are therefore easy to correct after application.
Vitamins A and E: Airbase contains Vitamin A, an ingredient that is proven to improve elasticity of the skin and therefore reduce fine lines. It also contains Vitamin E. This is an anti-oxidant that moisturises and repairs helping to deactivate the free radicals that age the skin.
Why airbrushing?
When you spray using an airbrush it atomises the product making the particles of make-up tiny. This is why airbrush make-up is used in HD TV and film. The particles in the make-up become much smaller than when it is conventionally applied and therefore less visible. HD TV picks up absolutely every imperfection! There are also hygiene benefits to spraying. When we use a conventional brush or our fingers there is potential to spread bacteria and germs across the face. By spraying Airbase make-up onto the face we can avoid this.